Hotel Apeldoorn - de Cantharel is open
Van der Valk Hotel Apeldoorn - de Cantharel is open and will use adjusted measures until 19 January 2021. We would like to ask you to take into account the stricter measures to safeguard your health and that of our employees. We hope to welcome you soon for a safe and familiar stay at Hotel Apeldoorn - de Cantharel.
Thank you for understanding and trust in our hotel.
View our taken measures
---
Frequently asked questions
How is breakfast offered?
Breakfast can be picked up in the morning and composed from the buffet to enjoy in the hotel room. You can choose from various types of bread, sweet and savory fillings, dairy, fruit, juices and warm egg dishes. Of course we can always take allergies and dietary requirements into account on request.
What options are there for lunch and dinner?
For lunch and dinner we offer a selection of dishes from our menu that can be picked up. As lunch dishes, these are a number of sandwiches and salads and for dinner we offer a number of starters, main courses and desserts. You will receive crockery and other supplies from us to make it cozy in the room.
Can the menu be viewed online?
No, we don't have a fixed menu, but we work with varying dishes. There is always a choice between various fish, meat and vegetarian dishes and of course we can always take allergies and dietary requirements into account on request.
Is wearing a mouth mask mandatory?
Yes, wearing a mouth mask from 1/12 is mandatory in public areas.
Is alcohol available?
Alcoholic drinks are available in the shops until 7.30 pm to enjoy in your hotel room. After 20:00 it is no longer allowed to consume alcohol in public areas.
Is it possible to order room service?
No, unfortunately that is no longer possible.
Is the wellness garden open?
No, our wellness garden is unfortunately closed until January 19, 2021.
Are dogs allowed in the hotel?
Yes, we have selected hotel rooms with a terrace where dogs are allowed. You can see whether dogs are allowed per room type. The costs for a dog are € 20.00 per dog per night.
Is it possible to use facilities such as renting an (electric) bicycle at the hotel?
Yes, we advise you to book this in advance and you can pick it up on the day itself at 't Buitenhuisje.
Can I cancel or change my booking?
Yes, you can cancel or change your reservation free of charge up to 24 hours before arrival.
Can I change my booking on the day of arrival if I have a cold or cough?
Yes, you can contact us and look at the possibility to move the booking. If this is not possible, we are forced to pass on 70% of the booking costs.
---
Open facilities
The facilities in our hotels are limited available to prevent too many people being in the same places at the same time.
Hotel overnight stays
The hotel is and will remain open.
Do you have cold complaints, such as a cold in the nose, runny nose, sneezing, sore throat, mild cough, increase or fever? Then we ask you to stay at home and not to come to the hotel.
It is mandatory to wear a face mask in all public areas.
Check-in is daily from 3 pm. It is not possible to check in earlier.
At check-in at our hotel reception, a maximum of one person per room is allowed.
Follow the indicated routing for entrances and exits.
Payment in the entire hotel is only allowed by pin or credit card.
Restaurants
Our restaurants are closed. There is a take-away option for breakfast, lunch and dinner.
Outdoor
't Buitenhuisje is open for information about cycling, walking and equestrian routes and rental of (electric) bicycles.
Are you renting one of our classic Land Rover Defenders for a day or part of the day to drive over the Veluwe as a forester? We have a beautiful route on paved and unpaved public paths that takes you past special nature reserves, wildlife viewing screens, villages and estates. And completely corona-proof and beautiful in all seasons. The costs are from € 150.00 (half-day) or € 250.00 (day) for 2 people, including snacks / drinks for the road and fuel. Additional persons, information and availability on request at the hotel reception.
Horse Hotel
Hotel guests can use the horse hotel and be outside with a maximum of 2 people.
The log cabin is closed.
---
Safe and comfortable
At Van der Valk, the health, safety and well-being of our guests and employees has the highest priority. In order to guarantee your health and safety, we would like to ask you to observe the following policy during your visit to our hotel:
Follow indicated walking direction and hygiene measures
Keep 1.5 meters distance from other guests and employees
Do not shake hands with fellow guests or hotel staff
Wash your hands regularly and in accordance with RIVM guidelines
Use paper towels to dry your hands
Cough and sneeze in your elbow and turn away from fellow guests and hotel staff
Preferably pay with pin or contactless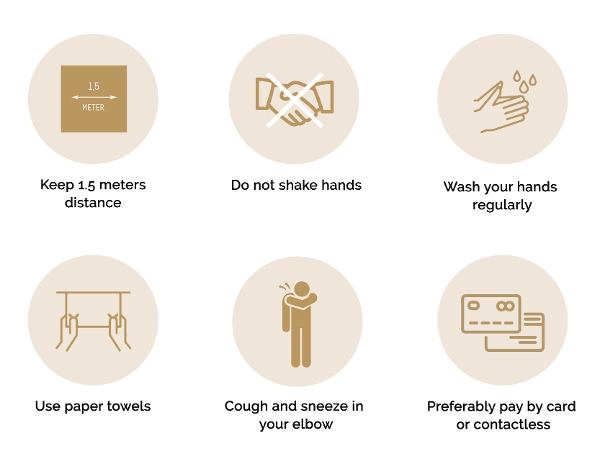 Do you have symptons of a cold, such as a runny nose, sneezing, sore throat, mild cough or increase to 38 degrees Celsius? Then we ask you to stay at home and not to come to the hotel.
We do everything we can to make your stay as safe and comfortable as possible. Thank you for your confidence in Van der Valk and we hope to welcome you in our hotel soon. If you have any questions, please do not hesitate to contact our reception.
With hospitable regards,
The Van der Valk family