GUIDELINES FROM JUNE 26
Thank you for coming to visit us! We will apply the following adjusted measures from June 26, 2021.
We would like to ask you to take these measures into account to ensure your health and that of our employees. We hope to welcome you soon for a safe and familiar stay at Hotel Apeldoorn - de Cantharel.
Thank you for understanding and trusting our hotel!
View our taken measures
---
Hotel
Check-in is daily from 3 p.m. It is not possible to check in earlier.
Payment throughout the hotel is only allowed by pin or credit card.

Restaurants
Breakfast (exclusively for hotel guests)
Every day there is an extensive breakfast buffet in the restaurant from 06:30 to 11:00. You can take a seat in the restaurant or on the terraces (reservations not possible).
Lunch and drink
The (partly covered) terraces are open for lunch and drinks. In good weather, the picnic garden is open daily from 9.30am - 8pm, also for non-hotel guests. Reservation is only possible on site.
Dinner (exclusively for hotel guests)
We present an extensive dinner buffet daily. For a good spread, we work with two rounds: at 16.30/16.45/17.00 and at 19.30/19.45. You can also use a seasonal menu or a selection from the à la carte menu. If no table reservation has been made in advance, we will look at the possibilities on site.
Huisje James
An extensive lunch or dinner is also possible daily at our restaurant Huisje James. Monday to Sunday 5pm - 10pm for dinner and Friday to Sunday 1pm - 4pm. Reservations are required for this!
Snacks and (alcoholic) drinks are available in the shops in the lobby to enjoy in your hotel room.

Spa & Wellness
The wellness garden with indoor and outdoor pool is open daily from 07:00 - 22:00.
We ask all guests to keep 1,5 meters away from each other.
Reservations are no longer necessary and possible.
At the reception you can rent bathrobes (deposit of € 25.00 each) and slippers.
The fitness room (max. 3 persons), saunas and Turkish bath (max. 1 person at a time or 1 household) are also open.

Outdoor experience
Our backyard De Veluwe is beautiful in all seasons! Enjoy our range of outdoor activities during your stay. How about a Land Rover Veluwe Experience, a carriage ride or a beautiful bike ride with our (electric) bicycles? You may have already made your plans, but if you still want to be inspired, you can immediately see the online availability for during your stay and book online here. Some of our tips highlighted:
Falconry
Carriage ride
Land Rover Veluwe Experience
Kids Land Rover Veluwe Experience (e-car)
Balloon ride
If you want to know more, or if you have other questions, please contact our hotel reception via 0031 55 541 44 55 or info@vandervalkapeldoorn.nl.
---
Safe and comfortable
At Van der Valk, the health, safety and well-being of our guests and employees has the highest priority. In order to guarantee your health and safety, we would like to ask you to observe the following policy during your visit to our hotel:
Follow indicated walking direction and hygiene measures
Keep 1.5 meters distance from other guests and employees
Do not shake hands with fellow guests or hotel staff
Wash your hands regularly and in accordance with RIVM guidelines
Use paper towels to dry your hands
Cough and sneeze in your elbow and turn away from fellow guests and hotel staff
Preferably pay with pin or contactless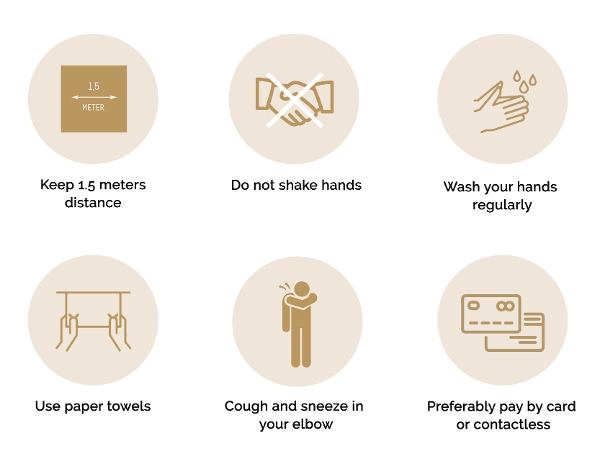 Do you have symptons of a cold, such as a runny nose, sneezing, sore throat, mild cough or increase to 38 degrees Celsius? Then we ask you to stay at home and not to come to the hotel.
We do everything we can to make your stay as safe and comfortable as possible. Thank you for your confidence in Van der Valk and we hope to welcome you in our hotel soon. If you have any questions, please do not hesitate to contact our reception.
With hospitable regards,
The Van der Valk family